Our Toddlers Are On The Move And Eager To Learn How Things Work.
Supported by our loving, caring teachers, this increasing curiosity can flourish in a completely new world of opportunity and growth.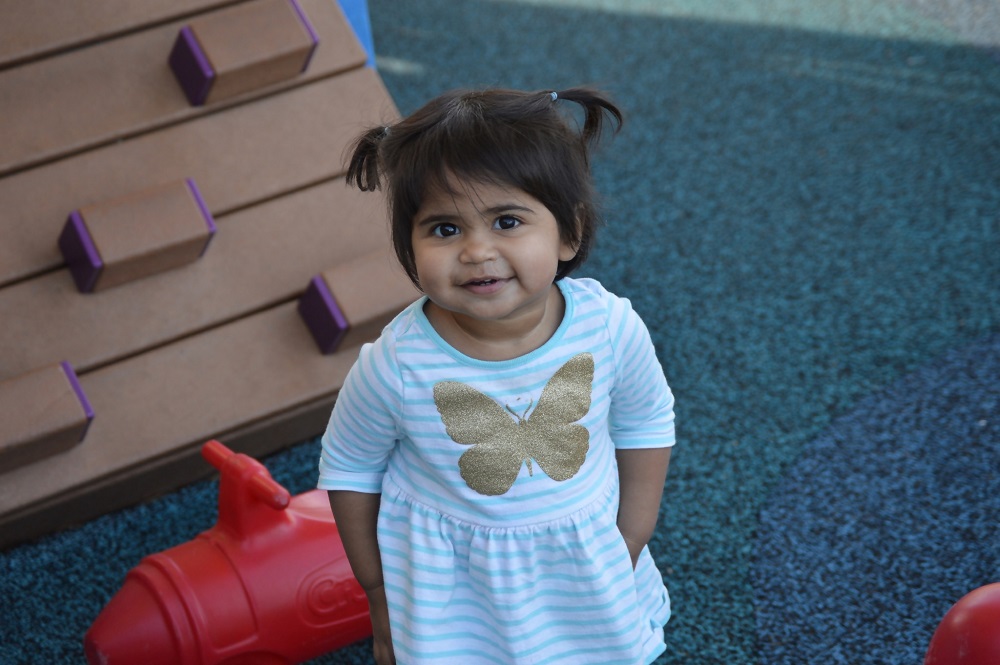 Our toddlers are on the move and eager to learn how things work.
Supported by our loving, caring teachers, this increasing curiosity can flourish in a completely new world of opportunity and growth.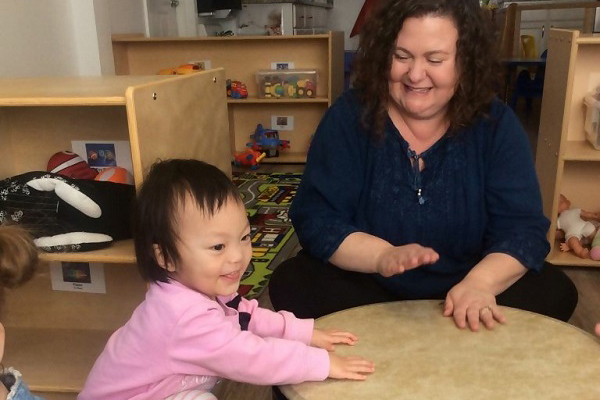 Creating Positive Relationships
Our caregivers strive to create positive relationships with each child by being a caregiver the child can trust and interact with comfortably. This is a time of transition that can be both emotional and exciting. As a toddler's world expands, new skills, vocabulary and knowledge are needed to balance their abilities. Our Caregivers foster this growth through supportive, gentle encouragement.
We work closely each family and toddler to make the transition as smooth and consistent as possible by acknowledging that every child's learning ability and development are unique and individual. Sleeping on cots, weaning off bottles, exploring new table foods and following a classroom schedule are some of the many exciting changes your toddler will experience. Our parent app allows continuous up to date information about your child's day including milestones, feedings, diapering and other fun activities. This added feature is only one of the ways we stay connected with our families.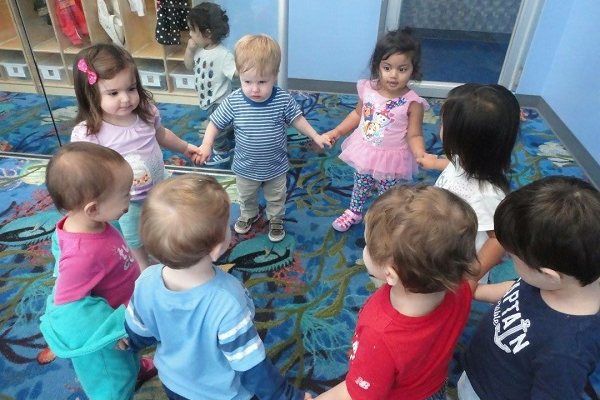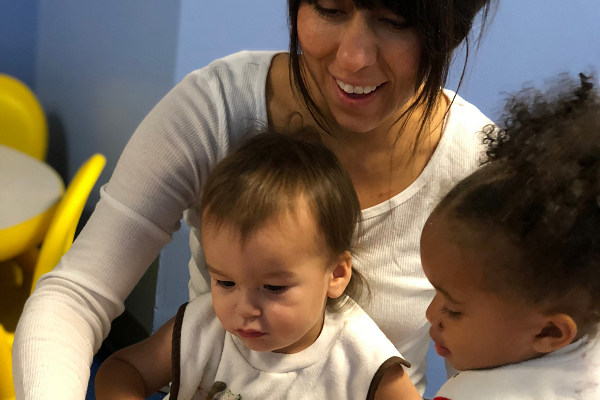 Supportive, Individual, Small Group Activities
Our Rising Star curriculum provides individual and small group activities with a lot of flexibility and mobility. Having a teacher near the children during every activity provides a stable learning environment for positive play and interaction.
Fun Learning To Foster Development And Growth
Our Rising Stars will find many developmentally appropriate toys and games that they can interact with as they explore their room. The changes in our Rising Stars' physical abilities and communication skills are staggering. Seeing your little one's mobility transition from crawling to walking is exciting and opens many new doors to one's learning awareness.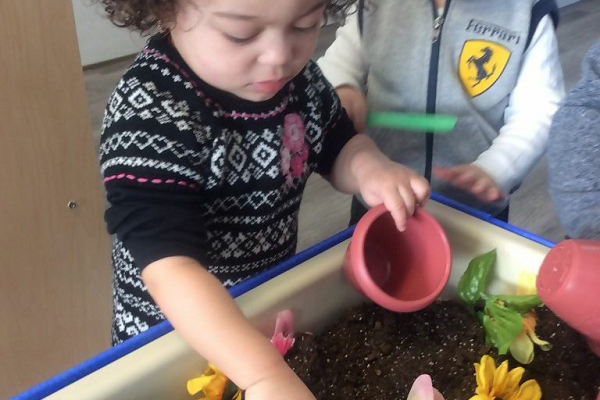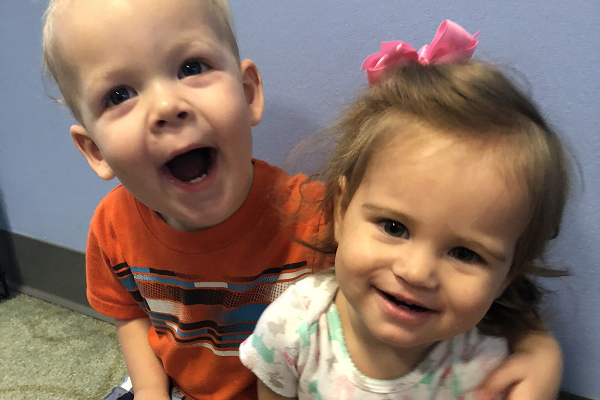 Verbal And Sign Language Communication With The Introduction Of Spanish
Our daily use of sign language continues to flourish in the Rising Stars curriculum, allowing amazing communication between caregivers and children. In addition, basic introduction of simple Spanish words opens early understanding and recognition to our bilingual enrichment program.
Calm, Encouraging, Safely Guided Teaching
Building strong connections with teachers and peers, modeling appropriate behaviors and talking about emotions are only a few of the social skills your growing toddler will experiences. Weekly, themed lesson plans provide hands-on activities including cognitive, social-emotional, language and physical development as well as activities that foster creativity with dramatic play, block play and art.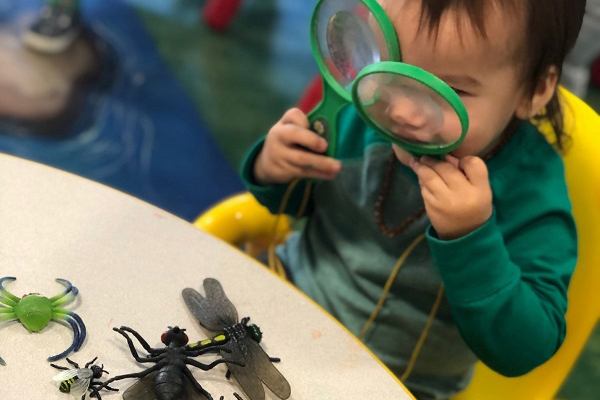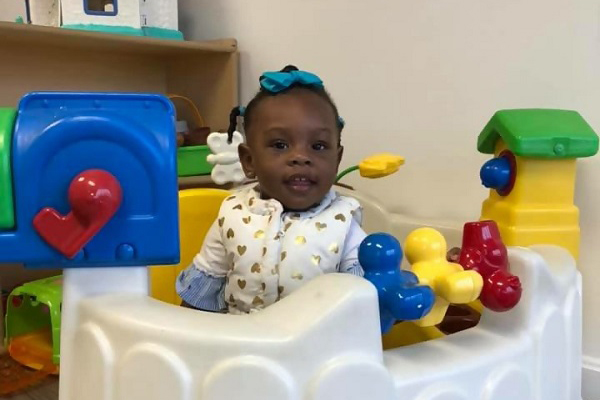 An Environment Specifically Designed For Young Toddlers Only Compliments Our Amazing Care
Our child friendly, eco themed classrooms create a world like no other. Filled with an assortment of educational toys and equipment our curriculum-centered play areas allow your curious toddler the opportunity to safely explore and learn. Classrooms are specifically designed for toddlers with child height features and open spaces. Separate eating areas help keep the classroom sanitary and ensure that your young toddler has a clean environment to grow.
Our Rising Star Interactions Promotes a bond with you and your toddler helping them put their best little foot forward while lovingly guiding them towards more independence.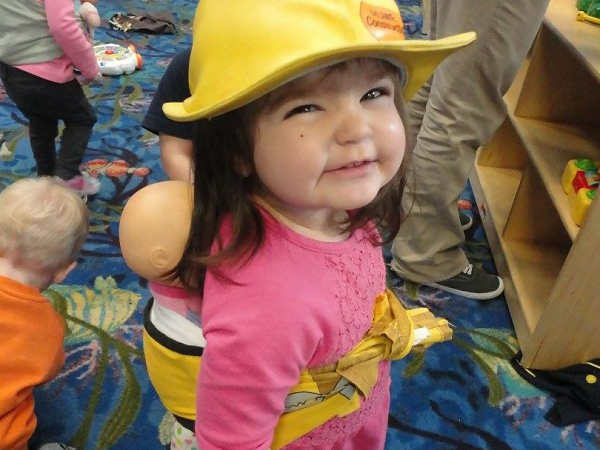 During this time of transition, it is important that our Rising Stars be provided with a learning environment that encourages exploration and mobility. Our teachers are aware of this need and strive to create an environment where your child's social and emotional development is nurtured. Below is a sampling of the many ways this is accomplished:
Developmental Goals And Milestones For
Our Rising Star curriculum goals support teachers as they provide daily activities and routines that support our toddlers' ability to navigate and interact with their expanding world. We are dedicated to providing your little one with a bright foundation for a lifetime of happy learning.
What Our Parents Are Saying...
"Very cooperative and friendly staff"
I love their toddler team. Very cooperative and friendly staff! My kiddo is doing great there and it seems like he is learning so much each day. I think the two biggest benefits is a great curriculum/environment for him to learn and great people for him to develop his social skills.
"We've had experience with other places and Bright Star has been our favorite"
Our son loves his teachers and is always smiling when I pick him up at the end of the day. Teachers from other classes know his name and it makes it feel more like a family. We've had experience with other places and Bright Star has been our favorite.
"BrightStar staffs and principals worked hard to welcome him "
We have our second child at Bright Star, we absolutely love it, all the staff is very friendly, they are ready to help. With our First son, we had a hard transition from trauma on his previous school, so BrightStar staffs and principals worked hard to welcome him and have him adapted. We enrolled our little one 20 months in August and the staff was amazing to have him adapted to the school, he never been without mom and daddy. So we were afraid of their adaptation. It was done seamlessly for my son and we can see his progress every day. Now with 23 months he eats without help, he enjoys all the staff members, and he never got sick at school, since this place is amazing cleaned and maintained. You can get a daily report through their app, with photos and all details about your kid at school. Definitively, I do recommend BrightStar to all families that care about your kid security, health, development, and care.
Our Accreditations and Certifications
Let us show you what makes our school exceptional!